Do to the Covid-19 (coronavirus pandemic), and in accordance to the new CDC guidelines, the government has made adjustments so that while our physical office may be closed to ensure social distancing and your safety, we are still able to conduct your vein and vascular appointment virtually. This means over the phone or over the internet, which is referred to as Telemedicine.
We are proud to have been able to quickly put this into place as we know that vein and vascular issues can be serious.
We are accepting new patients through this system and we are seeing existing patients through TeleMedicine as well. Below are the current procedures, however feel free to call the office at anytime to ask questions.
Covid-19 Protocol – Virtual Telemedicine – For New Patients:
We are accepting new patients at this time. You will need to call our office and schedule your telemedicine appointment with one of our board certified providers at 1-888-553-8346.
You will need a cell phone or landline phone for your virtual appointment.
Please have a working email address available.
You will be emailed your new patient paperwork or you can go to our website and download it at www.pinnaclevein.com. After filling out your paperwork, you can take a picture of it with your phone.
Have a valid I.D. and your insurance card ready, you will need to scan them in or take a picture (both back and front of the cards) with your phone.
Please be ready and available for your virtual appointment as our board certified provider will be calling you for your scheduled appointment time at the number you provided.
Covid-19 Protocol – Virtual Telemedicine – For Existing Patients:
Per CDC guidelines and government recommendations we are converting our scheduled patients to a telemedicine (virtual) visit. We will call you at your scheduled appointment time.
Call us at 1-888-553-VEIN (8346)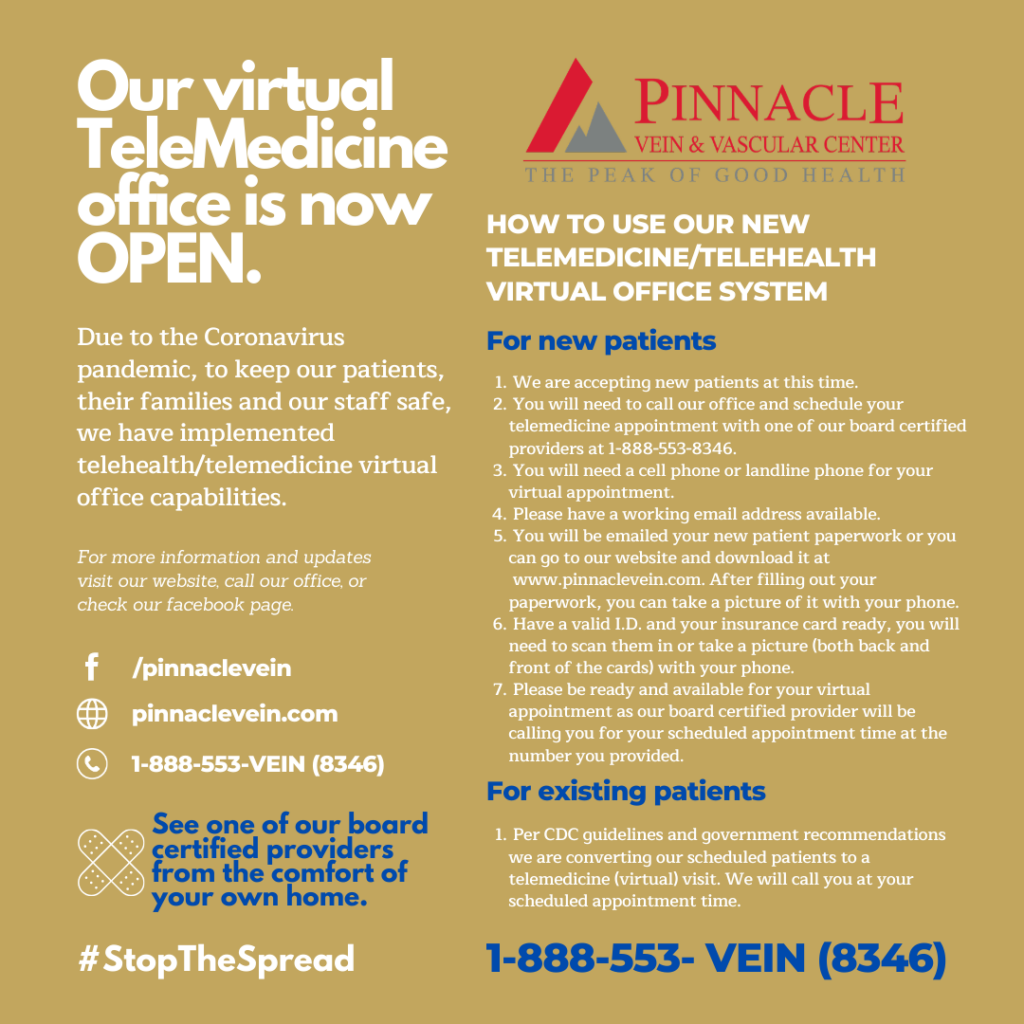 Disclaimer-The contents of the Pinnacle Vein and Vascular Center site, such as text, graphics, images, and other material contained on the PVVC site ("content") are for informational purposes only. The content is not intended to be a substitute for professional medical advice, diagnosis, or treatment. Always seek the advice of your physician or other qualified health provider with any questions you may have regarding a medical condition. Never disregard professional medical advice or delay in seeking it because of something you have read on the Pinnacle Vein and Vascular Center site.